Cookies are used on the Erste Premier website in accordance with the law

What are cookies?
A cookie is a small data file that a website's server sends to a search engine, which is then stored on the user's computer. When the user visits the same website again, the search engine sends this data back to the website's server. Cookies are commonly used to tell users apart, store user settings etc., thereby simplifying website use...
Cookies themselves pose no threat to computers. Nonetheless, cookies are important in relation to the issue of privacy protection, as a website uses cookies to store any information that it learns about the visitor, so it can gradually ascertain a specific user's interests. However, cookies can in no way be used to discover the identity of a visitor.
Information obtained from cookies can be used for targeted advertising and statistical evaluation of the behaviour of visitors, etc. However, this information can be obtained even without cookies; therefore, their use should not be viewed as particularly threatening.
Our own cookies
SERVIS 24
Language – as soon as a user selects a language, the cookie stores the language preference and uses it for each subsequent login.
Authentication (security) token – A new one is created each time a user logs in. It is used to verify the user every time a request is made on the server using the SERVIS 24 service.
Third-party cookies
We use partners to provide certain services. These partners also use cookies. These cookies are managed by third parties, and we cannot access them to read or extract data from them.
Such third-party cookies are usually from systems that deliver advertising or analyse visits.
Our website uses the Google Analytics advertising feature to target advertising based on a user's previous behaviour (remarketing), to obtain an overview of demographic data and interests and to provide integrated services. These require Google Analytics to collect data using advertising cookie files and anonymous identifiers. You can find out how Google uses the information by visiting our website here.
Our website uses anonymous identifiers and third-party cookie files for targeted marketing communications. If you wish to unsubscribe from this data collection and targeting, go to the Advertisement Settings page and unsubscribe from targeted advertising. Alternatively, download a plugin to your search engine and unsubscribe directly through that plugin here.
Consent to storing cookies
Most search engines automatically accept cookies, unless the search engine settings are set differently.
You can restrict or block cookies on your search engine.
How to check the cookie settings in various search engines
You can find information about the cookie settings of specific search engines here:
Visit us
Our private bankers are available at many branches throughout the country, which you can visit in person or contact them by phone.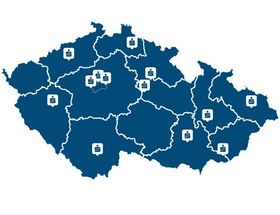 The Erste Private Banking service is intended for clients with savings and investments of CZK 10 million or more within the Česká spořitelna Financial Group or for clients with savings, investments and loan products of CZK 20 million in total and more.